In an ever-moving fast-paced world, it can often be hard to stay in shape and maximize your health. I understand the difficulties we face to exercise and that's why is logical to focus on better alternatives to maintain overall engagement. In our Bellicon rebounder review, you will see if this rebounder can become a significant breakthrough machine for you, and your home.
Is it really a great ticket to improve your health and meet your fitness goals?
Today we would take a broad look at the Bellicon rebounder, what has made the Bellicon so popular in the market, what all the hype surrounding it is about. We are going to cover if it's really worth your money and, its advantages and disadvantages over other brands of rebounders.
WHY REBOUNDING EXERCISE IS IMPORTANT?
---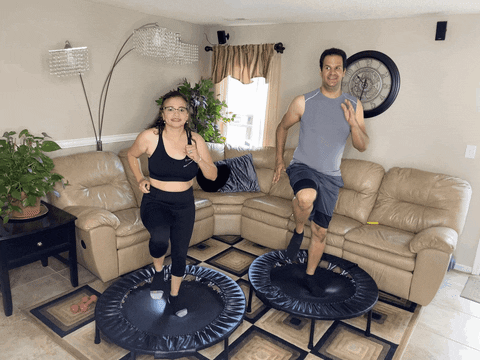 To have a balanced and healthy life you need to add exercise into the mix, physicians and doctors are shouting this fact from the rooftops. Rebounding is important because is an easy solution to exercising at home.
Your health is important and jumping on a trampoline combines fun and fitness at the same time. With this form of exercise, you will be boosting your physical and mental health.
Jumping on a trampoline is an effective way to workout, researchers claim that it is 2-4 times more effective than treadmill running. This type of workout ensures all cells in your body are exercised and the reason is simple; by resisting gravity you exert a gentle force throughout your body and this happens every time your body goes up and down.
This constant movement activates your lymphatic system like any other workout.
WHAT MAKES THE BELLICON REBOUNDER SO ESPECIAL
A lot of people have heard of the wave of the Bellicon rebounder and they wonder what it is that has made the product so popular in the market.
Bellicon were the pioneers of bungee cord rebounders but not only that, their rebounder bounce style is amazing for performing aerobic bounce exercises.
In fact, I believe the fitness and health benefits of this form of exercise will keep you motivated to exercise regularly. Is certainly that you will feel pleasure jumping in this rebounder.
Over 20 years, Bellicon has emerged as a force in the rebounder industry. In fact, in 2019 the American Chiropractic Association (ACA) endorsed and approved Bellicon rebounders for its customizability and safety features. A recognition that is not common on fitness products.
Rebounding in general is very good for your health. I am very positive about its benefits and, the reason is simple:
Aerobic bounce is fun
An effective way to burn extra calories
An excellent way to improve your cardiovascular health and balance
Moreover, who wouldn't want a mini-trampoline in their backyard where the family can play, bond, and stay fit at the same time? But, don't only take my word for it, you can also ask the multiple doctors, athletes, coaches, fitness enthusiasts, health experts, and sales reps who are all gushing in admiration about the Bellicon mini-trampoline.
WHY BELLICON REBOUNDER AND NOT OTHER BRAND?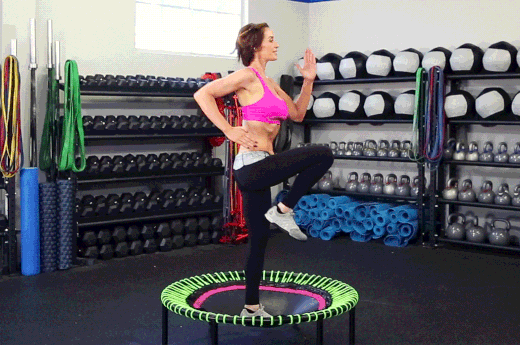 I truly believe the German-engineered rebounder gives total attention to detail, made to suit all environmental standards using top-grade materials, and available in 1500 different configuration options.
Labeled 'the Rolls-Royce of rebounders', the Bellicon continues to gain popularity all over the world, giving other brands a run for their money.
The unit has a strong, rigid, durable, and relatively lightweight frame that easily accommodates users weighing up to 400lbs; this can be linked to the fact that the frame materials begin with high-grade, high-gauge steel.
The rebounder features polypropylene mats. A material designed for comfort, durability and to enhance the elasticity of the bungees. They are resistant to weather conditions, as the destructive effects of UV rays.
The rebounder is available in four different models;
Bellicon Classic
Bellicon Premium
Bellicon Jumping fitness
Bellicon Plus
Bellicon classic is their least expensive model, an excellent choice for home use. The Premium model is made of stainless steel, offering enhanced protection from rust, scratching, and corrosion.
From low-impact rehabilitation of injuries and ailments to intensive cardio fitness training, the need for a rebounder like Bellicon is endless with everyone having different reasons for the exercise.
The innovation of introducing rubber loops or bungees instead of the usual steel springs makes Bellicon fitness trampoline so popular.
This brand not only revolutionized the fitness trampoline industry for a more user-friendly bounce style but also introduced customization options to fit different types of people.
WHAT CUSTOMERS ARE SAYING ABOUT BELLICON?
"This is an amazing piece of equipment!!!"- a customer impressed by the rebounder wrote.
She didn't seem to be alone. The rebounder has 87% of reviews giving it a 5-star rating and 13% slapping it with a 2-star on Amazon. The overwhelming majority are very happy with the product.
So, who should get the Bellicon rebounder?
This type of workout is absolutely excellent to develop a habit. The unit is for everyone, seniors or fitness pros, and it allows you to start casual and at your own pace or naturally evolve the way to exercise.
But Bellicon becomes even more special for people looking for a fun way to exercise in the privacy of the home. It is a wonderful product if you plan to stay fit while also involving the family in the fun activity.
These are just some reasons why jumping on a fitness trampoline is a great choice. Several other reasons revolve around having a blend of durability and usability. Making it an effective and fun way to get in shape, reduce cellulite, and de-stress at home. Now that's not a combination you see very often.
To the big question on everyone lip,
IS THE BELLICON REBOUNDER WORTH ALL THE HYPE?
Let's take a look at the pros and cons of the product, guiding your choice for a rebounder:
Superior Quality:
---
This brand has a super-stable frame, quality polypropylene mat which offers a smooth bounce and quiet jump experience, when you part with your money you can be sure it is for superior material and a great rebounding experience.
The bounce mat is weather-resistant, secure, and can withstand frequent use both indoors and outdoors. You can choose either the standard or the comfort mat type, which provides training comfort with soft cushioning for all types of exercises.
There is no doubt that the German-made rebounder is currently one of the best the market has to offer.
Customization:
---
There is a Bellicon for everyone. The rebounder offers a wide range of configuration options, ensuring that you find a unit in line with your fitness plan. Using Bellicon you will feel the jumping experience more satisfying than any other bungee cord mini trampoline because the unit will be set up to fit your plan, goals, body shape, and bounce style.
The MAT
When it comes to the mat type, you can either choose the standard mat type made of ultra-durable polypropylene or the comfort mat type which offers softer cushioning for even more training comfort.
The Frame
Apart from being able to choose across models, you also get to pick from three different diameters; 39" frame diameter, 44" frame diameter, and 49" frame diameter. The best will depend on the space you have available and your fitness goal. I found the 44" perfect for most exercises. 
Elastic Cords
The elastic cords are also customizable and are more elastic than many other rebounders in the industry. They come in five different strengths which accommodate varying body weights and form of exercise. This is good for a more enjoyable workout but please be aware that the more tension, the faster the jump response. You will want to get the stronger tension if your goal is to jog or run in place.
The choice of your rebounder elastic cords color is also totally up to you. You can pick from vibrant colors for added enthusiasm to workout or colors to match your home furniture. The units are up to three different colors per set.
The Legs
With Bellicon you are allowed to choose your preferred support leg type as well. This will depend on how you wish to store your rebounder; whether in a designated position or prefer to be able to fold up to store.
You could order the screw-in legs if you want the rebounder firmly mounted in a position or the fold-up legs if you prefer a portable rebounder you can fold up for traveling and storage. 
Overall my friends, Bellicon frames, mat, and bungees are made of durable, industrial-strength materials;
Accessories such as carry bags, support handles, frame cushions, and Bellicon socks are also available for order.
WHAT YOU SHOULD KNOW ABOUT BELLICON SPRING SYSTEM
With this rebounder brand, you don't get the traditional Metallic springs system but bungee cords. Bellicon uses special elastic wires, making worrying about noise less of an issue for you. With the Bellicon bungee cord system, you will have a peaceful workout. Exercising early in the morning will no longer be disturbing for other members of the family or roommates. 

NOTE: It's true that metallic spring rebounders need lubrication to make the friction noise go away but they tend to last longer than elastic or bungee cords.
BELLICON ELASTIC CORDS COME IN DIFFERENT STRENGTHS
You can choose from soft to ultra-strong bungees allowing you to change the height of jumps and allow children and the elderly their own time on the rebounder. Depending on the strength you choose at the time of purchase, you get fewer or more bounces per minute.
The softer tension is best for people looking to exercise with the lowest stress in the joints and to perform a healthy bounce. Bellicon recommends the optimal strength as a standard. You get this setting based on the weight you provide during purchase.
However, folks looking to get the most of your workout, fast aerobics, running in place and HIIT can go for the firmer bounce strength since you get a faster response. Meaning more bounces per minute, and less time in the air. This is important because you burn calories according to the number of repetitions you do. People with osteoporosis or balance issues should also get a firmer bounce style.
CONS OF THE BELLICON REBOUNDER:
Higher Investment:
Of course, the first and biggest setback when considering the Bellicon rebounder is the high price tag. The 39" model costs around $500, the 44" model would set you back $600 while the 49" would cost you $1200; Customizing the unit would be an extra cost as well.
The fold-up leg would cost you an extra $80, comfort mats cost $59, up to $200 for a frame diameter of your choice and the other accessories up for sale can see you pay up to $2500 for a rebounder of your choice.
Bellicon rebounders are the priciest rebounders out there today and while it can be argued that you get good value for your money, the price is something that you should consider when making your decision.
Bellicon is Hard to Store:
Only the legs of the Bellicon rebounder fold up meaning it is still relatively hard to store. The frame still poses a tough test when you wish to pack up and store it somewhere. If you would like to travel with your rebounder, then you may have to consider a different choice.
It isn't the hardest rebounder to store but the bungees, frame, and handles would pose a big challenge to store.
Low Ceiling Issues:
If your rebounder would be used indoors, then you might face a problem with jumping with Bellicon. Depending on the setup you go for, you may reach a height of 20" on the Bellicon rebounder, which should worry you if your apartment has a low ceiling.
The Bellicon's frame height is 14" for all models which are higher than most traditional fitness trampolines and if you opt for stronger bungees, you get even higher jumps. A tall user or lightweight user would be best served to do their workouts outdoors to avoid hitting the ceiling. It is important to note that high jumps are not advisable on any fitness trampoline as it increases the chances of injuries.
Low Bouncing Space:
The bungees take up a lot of space in the Bellicon rebounder leaving just 32" as the bouncing space. This also means your kids would have to take turns for their fun time to avoid overcrowding and injuries. However, this is pretty standard for a fitness trampoline. 
HOW CAN YOU MAKE THE MOST ADVANTAGE OF THE BELLICON REBOUNDER?
Accountability and motivation is always the most challenging part when we talk about exercise. Bellicon has the advantages of having a very well-made online platform with multiple workout videos. 
On purchase, users get a 30-day FREE membership to the Bellicon Home streaming service.
That will help you learn all the basics and you can even pay the full membership if you wish to follow the workout program. There are also multiple workout DVDs you can get to make your rebounding experience even more fun and challenging.
In terms of comfortability, with Bellicon the mats and the bungees offer a unique bounce style so, you definitely won't have to worry about unnecessary pains when you spend lots of time on the rebounder.
With this brand you can also make use of the rebounder with your barefoot or socks unless you go for the stronger bungee cords, then you have to make use of exercise shoes to avoid ankle pronation. The bungee cords on the Bellicon are also covered well so you don't have to worry about getting caught up in between them.
BELLICON CUSTOMER SATISFACTION AND WARRANTY COVERAGE
The customer service of the Bellicon Company is great, people who regularly use Bellicon find they receive prompt responses when needing help.
Taking about how the manufacturer backs up its rebounder, the experience is also great.
Bellicon offers:
Frame: Lifetime Warranty
Rebounder mats: 5 years
Bungee cords: 1 year
Now let's compare Bellicon with the other Top Giant
BELLICON VS CELLERCISER REBOUNDER
---
The cellerciser rebounder is used as the basis of our comparison because it is considered the best among the traditional spring-based rebounders. The American-designed rebounder is beloved by many because of its price and awesome rebounding experience. Both brands make use of solid steel and quality mat; Polypropylene and Permatron instead of nylon, canvas, or other unsafe materials.
The cellerciser uses a Tridapatable Metal spring system which auto-adjusts itself to the weight of people bouncing. Each spring expands from the middle to accommodate each person's weight. The springs used on the Cellerciser will last longer than any bungee cords.
The Bellicon on the other hand uses bungee cords which provide a smoother bounce style. Cellerciser has a 300 pounds weight capacity while Bellicon supports up to 400 pounds. The springs used in the cellerciser means it makes more noise than the Bellicon if not lubricated properly.
The cellerciser has a frame height of 10" and can get jumps as high as 12" making it more suitable for indoor rebounding, the Bellicon frame height is 14" and jumps can get as high as 20" with the bungee cord set at strong. The Bellicon therefore would not be suitable for indoor rebounding if your ceiling is not high enough.
The cellerciser doesn't provide buyers with the chance of picking colors and shapes, unlike the Bellicon that can be customized to the user's taste.
The cellerciser edges its German competitors in terms of affordability going for $325 while the cheapest model of the Bellicon would cost the buyer $500 to acquire. The Bellicon might be a better brand for some but the cellerciser provides the perfect bouncing style and fitness benefits in my experience.
FINAL RECOMMENDATIONS
There can be obstacles to exercise habits mostly revolving around safety. But this is never an issue if safety is prioritized and children are supervised. You can also start a fitness journey with Bellicon rebounder and watch in amazement as your body turns into the dream body that you desire.
All you have to do is START taking ACTION, set time aside to use the equipment and why not get your friends and family involved in the fun equipment?
The Bellicon rebounder is surely a great piece of equipment to own and I personally think is a great quality rebounder. Bellicon will boost your energy and for sure this is a treasure to have these days. The usability, warranty, and wonderful rebounding experience of the Bellicon make for a good consideration.
Fitness revolves around a three-pillar structure: healthy eating, good sleep, and exercise. Balancing these three practices is what makes the difference between a low-quality life and a more positive and enthusiastic lifestyle. 
While I hope that you are eating and sleeping great, I know that as far as exercise goes; the Bellicon Rebounder will take your breath away while boosting your energy and mood.
If you have any questions or will like to share your experience, please do so in the comments area. So we can all learn and motivate each other to enjoy life to the fullest.
To Your workout Success!!
Ria