If you need reliable workout equipment that targets the entire body and at the same time brings some fun, get a fitness-trampoline. It is more affordable than a treadmill and a great alternative to revamp my workout.
Rebounding is not only about bouncing up and down, there are multiple rebounding exercises you can do as well. That's why many are asking for the best mini trampolines for exercise and weight loss.
Choosing any rebounder unit from this list will allow you to do aerobics, HIT exercises, and there is more, you can even start toning your abs, legs, and glutes. A 2016 study by ACE has proven its effectiveness.
How Does Rebounding or Fitness-trampolines Work?
---
Mini-trampolines are also known as a rebounder and the way it works is pretty simple. When you jump on a mini trampoline, three factors come into play: gravity, acceleration, and deceleration, as a result, you get a weight-bearing full-body workout without hurting your joints.
For this Review, we are taking into consideration the following:
Quality material & Durability – to always ensure that your money is well invested.
Look for a solid steel frame that doesn't bend when jumping high.
Choosing a high-quality mat "Permatron fabric" will provide longevity on your unit. Cheaper rebounder mats do not have seared stitching and this leads to ripping with use. Permatron mat is a good material but "seared permatron stitched mats are the best".
Safety -Your body's well-being is your top priority so choosing a product that has been thoroughly tested for safety is key.
Comfortable and Effective bounce – You should be looking for a bounce that is good in your joint but also that does the job. Bungee rebounder tend to provides a softer bounce but metal springs system last you longer. If you are choosing springs instead of elastic bands, go for a quality rebounder so it provides you a comfortable and smooth bounce as well.
Storage capability – So you can easily store the unit when need it.
In this article, we also are going to talk about how you can get the most from your rebounder.
Without further ado, let's go deep into the review.
The Best Mini Trampolines For Exercise

---
Cellerciser Rebounder with Balance Bar
[Top Quality- Spring Rebounder]
I truly enjoy the bounce style of the Cellerciser rebounder. In fact, it is our #1 recommended rebounder because of its overall quality. People of all sizes and heights can experience the same amount of comfort when jumping due to its triDaptable Spring System.
When people bounce the pressure is gently absorbed as needed through the Triple tiered-tapered ends allowing your body to accelerate and decelerate smoothly and safely.
This is how you get a beautiful abdomen using a Cellerciser. It eliminates up to 7/8 of the "ballistic impact" while jogging on.
---
There are not cut corners with this brand.
It features a 40-inches solid steel frame to ensure a durable construction.
Top Quality Space Age Permatron mat. This material is top quality and is used by most quality rebounders. It doesn't stretch or rip with use and is weather resistant.
In the package, you get an instructional workout DVD, a booklet, and the exercise chart routine for the wall.
Even though Cellerciser advertises the springs' can last for a lifetime they also include two (2) additional springs' in the package in case you ever need it.
They also back up the product with a full 5-year warranty on every part.
Want to know more about the cellerciser rebounders? Check our FULL REVIEW HERE…
Bellicon Classic 39″ Mini Trampoline – Most Customizable
[Top Of the Line Bungee Rebounder]
This is another high-end trampoline on this list. It is made in Germany using a top-quality heavy-duty steel frame to ensure it delivers the best performance. The trampoline has a mini design, so no need to worry about it taking too much space in your home.
With Bellicon almost everything is customizable. In fact, you are able to choose between the 39", 44", and 49" rebounders and you can configure them with your favorite colors.
The strong bungee cords hold the mat firmly to the frame to provide a very comfortable bounce. The bungee cord spring system plus the Woven Polypropylene (PP) mat provide a dedicated workout space so you can perform a wide range of workouts such as cardio, fat burning, and even toning the body through various movements.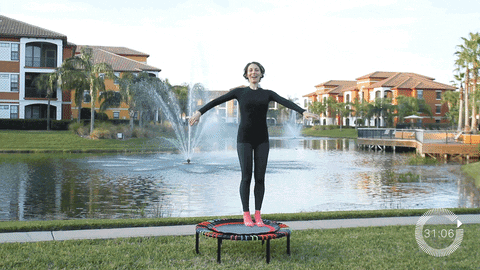 You will also like to know about these other great features.
It can support a weight of up to 440 pounds.
To guarantee the durability of the item, the company provides a 30 days free trial. And, you get a Lifetime warranty on the frame; Mat: Five years; Cords: one year.
If you want to know more about the Bellicon rebounder, Click Here… To See our Comprehensive Full Review…
JumpSport 370 PRO
---
I also like and enjoy bouncing on the JumpSport 370. This rebounder does not use metal springs' for a smooth bounce but elastic bands that provide a quieter and deeper bounce. According to the company, the elastic bands on this PRO model can give you a 1.2 million bounce cycle which is quite a bit of bounce.
The JumpSport uses 36 elastic bands and you can manually adjust them to the desired tension and according to your weight. This is a common issue on Bungee cords rebounder. I can say it is very stable and safe to use. It supports up to 300 pounds.
If that's not enough, it also comes with
FlexBounce connectors feature on the elastic bands to allows you to choose between 7 different options so anyone can find the most desirable bounce. For an effective workout, I would choose the hardest one your knees or back can take. It will guarantee more bounces per minute and less time weightless in the air.
Arched legs and 39" Metallic Charcoal frame for added stability
JumpSport also features a Permatron mat, a material that doesn't rip or cone with use.
This brand offers a lifetime on the frame and legs Plus a 4-year warranty for the Mat and the elastic cords. Notice the warranty does not cover regular wear and tear.
In terms of quality and price, with JumpSport 370 you will be better served than any other more expensive Bungee cords rebounders. Bouncing With JumpSport gives you a full-body workout with the right tension. Plus, you get a stable, comfortable, and quiet bounce.
Want to know more about JumpSport 370 PRO rebounders? Check our FULL REVIEW HERE…
FIT BOUNCE PRO II Rebounder
The Fit Bounce Pro II is one of the best-rated bungee cords trampolines on the Amazon Store. It supports up to 300 pounds, folds in half, and is very well-built. If you compare it with cheaper bungee cord models, they don't come close with stability and quality construction like this one.
This rebounder does not come with an adjustable tension capability like the JumpSport 370 Pro, but it allows you to save some money. I found it delivers a secure and smooth bounce for people between 150 to 200 pounds. If you are in this range you definitely can experience a fun and effective workout.
The company has chosen a middle-range tension so it is not too stiff, not too soft to satisfy the majority. If you are under 150 lbs. OR more than 200 lbs. I would choose the 370 PRO model instead.
When taking the Fit Bounce Pro II out of the box, people find it VERY difficult to fold and unfold. In fact, if you follow the company recommendations, they advise two people for the first time setup.
Other features to be considered:
The frame is approximately 39 inches in diameter, with a bouncing area of 26 inches.
As the JumpSport 370, do not expect to be soundproof when bouncing but definitely, it is quieter than non-lubricated models with barrel springs'.
It comes with 2 spare bungees, an exercise DVD, and a pedometer that lets you track your exercise progress.
You also get a storage bag for easy transportation. This rebounder stands 13 inches from the floor.
In terms of the warranty, they offer a Lifetime warranty on the frame and a 3-year warranty on the mat. Bungees and leg springs' have a 12-month warranty.
The stability handlebar is available to buy separately and can be easily fitted to provide extra balance support for seniors or beginners.
NEEDAK Soft Bounce Rebounder – The Best Soft Bounce with Barrel Springs
I recommend Needak soft bounce rebounders for anyone but specially for people with bad knees or back problems. Needak truly delivers a smooth bounce. Just keep in mind that you will be jumping deeper and as a result will be sacrificing a few bounces per minute.
Needak is a high-end rebounder and not only because of its bounce style. It uses a 40-inch solid steel frame, Permatron mat, and has a maximum capacity of 300 pounds. You might want to buy a cheaper version, but if you're planning to rebound for the long run, make sure you choose a unit that's made to last.
Other features you can take advantage of are:
Needak Rebounders are portable and can easily be stored in a closet or under a bed, you can take them with you when traveling.
With the package, you get a workout DVD to get you started. The Instructional Immune System DVD, Spring Lubricant.
The company also offers a limited lifetime warranty.
Some drawbacks that you may find, few people find the folding capability a little stiff when folding and unfold when brand new. Be aware that getting this awesome deep and smooth bounce comes with the need to replace springs more often just like changing the tires of your car.
The good part is that Needak's website has all the replacement parts available. You can get the full 36 springs' set for around $80. This ensures your product can last you for many years.
Want to know more about NEEDAK Soft Bounce rebounders? Check our FULL REVIEW HERE…
Maximus Pro Rebounder
[Mid-Range]
Innovation is what characterizes the Maximus Pro rebounders. The included accessories entice a great home workout from beginning to end.
For your investment (under $300) you get a 40" metallic frame with 32 long springs' to get a smooth and effective bounce. The unit is foldable and you also get the handlebar, resistance band, 2 workout DVDs, and sand weight.
I personally believe it provides the best all-encompassing mini trampoline package in the market. It is one of the best workout equipment to keep you engaged and motivated which is often what people miss.
In terms of durability, the biggest drawback is that you will have to replace springs' occasionally. They tend to break after about a year or two of use. You can get a full set of 6 springs' for around $36 on the manufacturer website.
The warranty isn't quite its strongest point though, while other high-end quality brands offer 5 years warranty, Maximus Pro offers 1-year on the frame, half a year on the mat and the springs', while the rest is covered with a three-month warranty.
Want to know more about the Maximus Pro rebounder? Check our FULL REVIEW HERE…
JumpSport 250
If you are looking for fun ways to get your cardio workouts, especially in wintertime, rebounding on the JumpSport 250 will not disappoint you.
This rebounder is easy to put together, the only thing you have to do is screw the legs into holes and be ready to jump. It is very affordable and still delivers an effective and fun workout.
With this model, you get 30 EnduroLast Elastic Cords, tested for 400K bounce cycles. Comparing it with the 370 Pro, the elastic band will not last you the same, and the ability to change the tension is relegated to more expensive models. However, it can still give you an average comfortable bounce.
You also will like to see that is comes with:
A 39" metallic frame with also arched leg to ensure safety and added stability
It features a Permatron mat for quality purpose
In the package, you also will get 60 Days of access to JumpSport Fitness TV
The rebounder is backed up with a lifetime warranty on the frame and the legs and a 2-year warranty on the elastic cords. In case the warranty period expires or the elastic bands get worn out or break you can easily replace them from the website manufacturer.
If you are looking for an affordable rebounder under $300 that includes bungee cords for a quieter bounce without needing to do maintenance, you are going to love JumpSport 250.
Overall JumpSport 250 is a good rebounder but keeping the promise I made at the beginning of the review, be aware that the bungee cords will get worn out faster than any quality springs' rebounder. JumpSport warranty is in place for defects — not usage– and bungee cords tend to lose tension faster than metallic springs'.
Rebounding Frequently ASk Questions
Can you lose Fat using a Rebounder or mini-trampoline?
Yes!. See the chart below with my average calories burned in 15 minutes.
I am 130 pounds and I started with the healthy bounce for two minutes, I proceeded to a jog, then to a sprint (running in place) until peak heart rate was reached. After that, I slowed down and proceeded to do strength training with 3-pound dumbbells, all of that while bouncing up and down ( healthy bounce). I burned 167 calories in 15 minutes. You can start doing the same!!
Look!, I have come across different testimonies of people burning up to 1000 calories in an hour. According to ACE, on average you burn 350 calories in 30 minutes rebounding at a normal pace. Rebounding is effective.
For how long should you workout on a mini trampoline?
You can start with 15 minutes a day and work at your own pace. Once feel stronger increase time until you reach the number of calories you want to burn. Your body will appreciate it. You will start feeling better and having a better mood, your energy will be boosted and your overall health will be improved.
How to Get the Most From Your Rebounder
---
If you ask me how to start rebounding? – I will say, Start Your Rebounding Exercise Slow
If you are out of shape like I was, start slow with the healthy bounce. It consists of jumping up and down where you barely leave the mat. A good quality rebounder will give you above 100 bounce per minute. The more repetitions you do, the more calories you burn.
Remember that rebounding is NOT about jumping high but bouncing down and deep. Using the three factors: acceleration, deceleration, and gravity, you get a full-body workout.
With just a couple of minutes of rebounding doing just the gentle healthy bounce, you activate your lymphatic system for a natural detox. You are also oxygenating your blood for better circulation.
Workout And You Will See Tangible Progress
As you improve in strength look for more cardio performance. To do that, start walking and jogging fast until your body starts feeling breathless. At this point do it by lifting one leg at a time as high as you can. When I started, I was capable of doing less than 5 minutes.
Do not get discouraged, you can pause for 30 seconds every time you need a break then continue. Have the mindset of improvement and push harder until you see progress. Do not wait until you feel you want to exercise instead, exercise until you see progress and you fall in love with it.
My Experience
My husband and I really enjoy exercising regularly on our rebounders. As I say I am 130 pounds and my husband is 220 and we both have great cardio and toning exercise while experiencing a smooth bounce.
I personally stopped jogging on a pavement after my knees began begging for a gentler exercise. That is what you are going to expect from rebounding, a low impact exercise that is gentler in your joints.
With a rebounder, you can also do toning exercises, to know more check our full post, how to exercise on a rebounder here..
Final Thoughts
The best exercise equipment to strengthen your body or lose weight is the one that you can enjoy. Rebounding is well known in the fitness industry as a fun activity to get your heart rate up. Any of the mini-trampolines from this list can get you to where you want.
If you are ready to take action and feel motivated to rebound for better health. What are you waiting for?
Now is your turn, have you exercised with a rebounder before? If so, what has been your experience? What brand have you used? What other exercise equipment do you find to be fun?
And, if you have any question or concerns, please leave us a comment below, we are here to help you improve your health so you can become your better version.
To Your workout success!
Ria