For the majority of us, the trampoline brings back memories of backyard barbecues. But did you know that trampolines can be used as equipment for exercising at home? As a matter of fact, a trampoline-based workout offers more than enough intensity to improve cardio-respiratory fitness. But, how to choose the best rated mini trampoline for an adult?
If you are interested in this unconventional but fun fitness equipment, keep READING because I am going to show you all you need to know to make an informed decision.
Choosing the best affordable rebounder is often difficult and it is because not all of us have the same weight, height, or jump in the same style. In addition, many of us do not have the same muscular strength in the knees or back.
Factors you need to take into consideration when buying a fitness-trampoline
---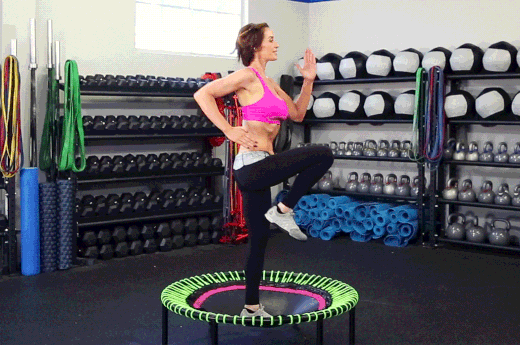 ---
The frame
Most fitness trampolines are made with galvanized steel frames, chrome, or strong PVC. Since steel is strong and can withstand multiple weather conditions, I found it to be the best frame you can get.
Choosing a lighter frame has the advantage of being easily moved around the house but if your bounce style is jumping high, you will be better served with a solid steel unit for safety.
The mat
---
The majority of quality trampolines come with Permatron mats or Woven Polypropylene, which is quite favorable in durability and damage-resistance.
If you are looking for the best choose Permatron, these materials do not stretch or rip with use and, are also weather-resistant, so you can use the trampoline even outdoors without worry because it will not spread a bad plastic odor.
On other more affordable trampolines, the mat is made of canvas, nylon, or even plastic which we rate as poor because they tend to lose their stretching capabilities and will break sooner.
The Bounce Style
---
Choosing the best comfortable bounce will depend on which rebounder you purchase as well as, your weight, and bounce style. If you want a rebounder for a healthy bounce, detox, and activating your lymphatic system or to perform vigorous workouts go for one that provides the most resistance such as the JumpSport 250 or the Maximus Pro.
Check out the list below for my recommendations.
Best Rated Mini Trampolines Under $300
JumpSport 250 Trampoline
The JumpSport 250 is a great start-up pack for people who have never worked out with a trampoline before. The trampoline is also quite versatile since you can use it for multiple workout levels, including cardio, toning, HIT, dancing, among others. By choosing this unit, you also get a workout DVD to help you start.
There is no need to clear too much space in the house since you can easily remove the legs for easy storage and carrying. The company is proud to say that it reduces Over 40% on impact as compared to other brands.
Even though this is an entry level rebounder, the company is using a Permatron mat, a high-quality material, and it is attached to the frame with heavy-duty and strong elastic cords. The rug measures 35.5 inches to provide a cushioned surface to jump on. Moreover, JumpSport is about safety, they also include an overlapping petal pads to cover the bungee cords.
If you are looking for a great entry level trampoline without giving up on quality, the JumpSport 250 is very well to be considered.
What else you should know about this model
The Bungee cords can hold up to 400K bounce cycle
The unit weighs only 22 pounds so anyone, including seniors, can move it around for convenience
The 250 model does not let you adjust the firmness level so be aware that it may result in a little firm to lighter people those around 100 pounds.
The company is giving a lifetime warranty on the frame and 2-years on the elastic cords
Needak Soft Bounce Folding Rebounder
This is another top-quality trampoline that you can carry with you and use anywhere when working out. The trampoline is also relatively light so moving it around is quite convenient and easy.
The 36 strong jumbo springs and the Permatron mat give a reliable stretch effect such that the unit can support an individual with 300 pounds. These two parts make the best bounce a reality for effective workout results.
Note that this trampoline provides the most unique soft bounce effect available in the market. In fact, I found it delivers a great bounce especially for those suffering from bad knees or lighter people. If you are in this range you definitely can experience a fun and comfortable workout.
Besides these amazing features, you should know that:
It features a 40" steel frame, plenty of space for beginner or fitness pro.
It comes with the foldable capability to allow you to easily take it anywhere.
The unit is relatively quiet for a metal spring type rebounder.
Needak also offers a limited lifetime warranty for quality assurance on buying this trampoline.
Maximus PRO Folding Rebounder Plus ONLINE & DVD Workouts
This unit is one of my favorites under $300 rebounder because of its solid construction. Even though it uses springs that required maintenance for a quitter bounce you get a more solid and safer bounce. That means you will not suffer from ankle pronation. In other words, your feet will not be conning.
The Maximus Pro supports a person up to 310 lbs. and like other good quality trampolines, it provides a low impact exercise without a jarring effect on your joints. The manufacturer suggests that you bounce 20 minutes a day for optimum results.
This unit includes the seven free workouts you can take advantage of from day one on a DVD. Users can also have access to100s of rebounding workouts accessible online from their international presenters.
Different workout styles provide all the proven benefits of rebounding, such as improving the immune system through lymphatic drainage, improving the control of the bladder, balance, coordination, and building muscle strength and endurance.
Besides the aforementioned points, what I love the most is the fact it comes with:
A balance bar to help you with the more vigorous exercises.
The unit can fold in quarters pretty easily and store it away in the storage bag that comes with the package.
It weighs 32.19 pounds, and it has 32 quality calibrated springs to provide a smooth bounce. This is a little stiffer than bungee cords but remember the more resistance the more calories you burn.
Double cross-stitched on the mat for added durability and is also a non-slip mat.
It features a non-marking rubber foot to makes it very strong and safe.
On top of that, no assembly is needed, making it easier for seniors and beginners to just jump right in.
Moreover, you also receive a BONUS.
The Maximus Pro includes in the package a resistance band that attaches to the rebounder so you can use it for your upper body exercises. It also has handheld sand-filled bean bags included for a bit of extra resistance. The only thing that you need to be mindful of is to lubricate the springs from time to time to avoid the squeaky noise.
LEAPS & REBOUNDS 40-inches
The Leaps mini trampoline is a great option for those looking for a quieter bounce. It uses bungee cords, which provide a softer bounce without the ballistic impact on your joints. Bungee cords do not need maintenance as metal springs do but it also comes with the drawback that you need to replace the cords after a time as it loses tension with use.
With this rebounder, you will get a fun and engaging workout that is gentle on the joints. This rebounder is built with carbon steel, usually present on more expensive rebounders.
The mat is not made of Permatron but still seems to last pretty well. It comes in two sizes, 40 and 48 inches. But I would choose the standard 40-inches for a safer and more effective cardio workout.
The bigger the mat the less control you have to perform a vigorous workout. Your ankle also tends to pronate because there is less tension in the middle.
The mat is made of basket-woven polypropylene that decreases elongation and maximizes strength. It also offers a no-risk 30-day return policy, plus the stabilizer bar with a lifetime manufacturer's warranty on the frame. I also love the color choices.
One thing to be mindful of is that some users say the legs can break quickly when performing higher jumps. Overall, this rebounder is highly suggested for anyone starting a workout journey.
Maximus HIIT Bounce PRO Includes DVDs for Fitness
This mini trampoline is 40 inches in diameter and is loaded with 32 springs, so it's very kind to the joints. It can be used with up to a maximum of 330 pounds. A special tilting package for aerobic exercises is included. In the package, you get a free membership for 3 months of access to online workouts.
The kit also has a high-energy HIIT Rebound compilation DVD with 3 intense aerobic exercises plus a bonus incline program for the ultimate fitness challenge. To add more resistance for increasing strength and energy, while running, use the genius 1 lb. weighted gloves provided with the kit.
Many users love the sturdiness and the low impact of this item. It is also easy to fold when you are not using it. It stands out from the others by being versatile as it can be used flat and inclined.
Leikefitness Professional Gym Workout 50″
This trampoline is made for kids and adults alike. The full width is 55 inches, and the jumping mat is approximately 42 inches with a maximum weight capacity of up to 330 lbs. It also has a steel frame that sticks firmly to the jumping surface for you to work out, and a top-notch anti-wear anti-slip mesh surface.
It also added six super heavy long bungee cords for an amazing soft bounce. Most users find it is sturdy and quiet and allow for extra fun performing higher bounces.
One thing to be mindful of is that bungee cords wear out with use, and they need to be replaced. With a 50-inch in diameter bouncing area, you need to be more cautious and bounce with your feet a bit wide and closer to the edges to avoid pronation.
DARCHEN 450 lbs. Mini Trampoline for Indoor Workout 
The Dachen rebounder is very good and should be considered because of its high weight capacity. Like the other rebounders here on the list, it uses a polypropylene mat. Feature a 40 inches metallic frame with a bouncing area of 28 inches which I found to be a great diameter size for a safer and more controlled bounce.
With its 3rd generation bungee cord, it provides very good support. It is also built with heavy-duty steel and six legs to offers you great stability.
It is designed to help you meet your fitness goals when it comes to balanced exercise training. Its six supporting legs plus the strong bungee cords allow it to support up to 450 lbs.
Using bungees instead of the traditional spring makes it stand out from the other as it makes this product quieter but please be aware springs tend to last longer.
Some users advise of slight difficulty assembling it, so consider having a helping hand close by if needed.
FirstE 48″ Recreational Exercise Trampoline
If you are looking to relieve stress and want the kids to also have fun, the FirstE 48" will not disappoint you. This unit is very well rated online. Whether you are a beginner, or a fitness enthusiast this can be suitable for a lot of fun as well as cardio workouts.
The FirstE is made of high-quality commercial steel material and a resistant polypropylene mat that supports up to 440 pounds. It is 48 inches in diameter which gives room for higher acrobatic jumps and has enough space to support even two kids playing simultaneously.
The steel legs make the rebounder stable and silent while in use. Together with its eight legs covered with an anti-slid post cap, it will keep the rebounder wear-resistant and sturdy. The polypropylene mat is waterproof and easy to clean. You will love the fact that the handlebar is adjustable (29.5″/32.6″/35.8″/39) which makes it available to change for adults and kids.
This will ensure everyone has a good bouncing experience. The handle is coated with foam material, very easy for you to grasp and avoid falling down accidentally.
The FirstE can fold in quarters and it will save you a lot of storage space. You can easily store it on any part of your house or take this trampoline in your car trunk while you are traveling with your family outside.
This is good for us adults who want to work out but also ideal for taking summer indoors to help get some kid's energy spent. Getting a balance bar allows you to work out both on and off the trampoline.
Advantage Of Using a Mini-Trampoline For Your Home Workout:
Full body workout without feeling as hard as it actually is.
The exercise is free of the commonly jarring effect of jogging on a pavement
It helps you burn calories as effectively as running at 6 miles per hour. 
Excellent cellulite busting exercises
It is fun to do it and very versatile
Will boost Longevity and energy
Improve your balance and spatial awareness
Increase your blood circulation
Great to naturally detox your body
Still with doubts?
Rebounding can also Help you with:
Reduce Cellulite
Strengthens Your Muscles and Bones.
Increase the ability of seniors to recover their balance
Boost Your Energy and Happiness
Fighting Against Sedentary LifeStyle
Of course, the secret to enhancing health and body composition is consistency, as with all exercise techniques.
Need Extra help to decide?
Let's explore the difference between elastic bands and Metal Spring Rebounders.
Bungee Cords or Metal Springs Which one should I choose?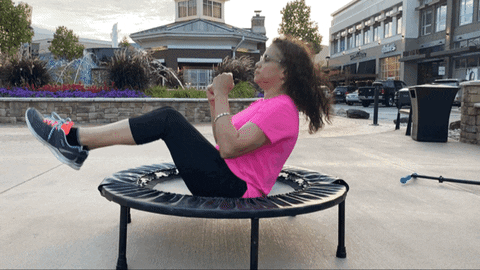 This will depend on your personal needs and desires. People buying bungee cords rebounders have to take into consideration the following:
The rebounder needs to provide the right tension according to the weight or height. This is also important for your safety to avoid ankle or foot pronation as well as to have an effective workout.
In other words, a person with 250 pounds should use more tension than one with 130 pounds, if you are using a bungee cords rebounder.
Springs
The metal spring system is more stable but less bouncy. Usually, the bigger the spring the bouncier it should be.
But although the spring connectors may need occasional servicing, maybe one or two lubrications in a year, to provide a quieter bounce, they are exceptionally durable and may last for many more years. Springs also gives significantly more bounce per minute compare to bungee cords. Which is key to burn extra calories.
Comparing it with a spring rebounder, bungee cords offer a quieter and softer bounce. But springs rebounders let you have more bounce per minute and less time in the air giving you faster results for weight loss. Bungee rebounders on the other hand allow you to bounce higher, you can also burn a ton of calories doing aerobics involving higher bounces.
However, having a too soft bounce can lead to injuries because your ankle and foot can start coning often while bouncing. If the surface instead is too stiff you can also start feeling a lot of stress in your back or knees.
If you have bad knees, I would be extra careful because you don't want to bounce in a too soft rebounder neither too stiff and compromise your knees even more. If this is your case go for the Needak Soft Bounce if you feel you don't have strong knees.
Bungee Cords
Bungee Cords rebounders provide a smoother and quieter bounce which is great for lighter people and it is also the market trend. Bungee cords are getting a lot of traction in this industry since the trampoline provides a quieter bounce, unlike with springs.
The misconception of Rebounding Workout:
Be aware that rebounding is not jumping like you would on a recreational trampoline where you jump high constantly. Rebounding is about pushing your body deep as much as you can.
Final Thought & Our Top Pick
There you have it, our best-rated mini trampolines under $300 suitable for both adults and kids. Our TOP PICK is the Maximus Pro rebounder because of the added accessories and versatility. We have taken into consideration safety features like the balance bar that provide support for advanced workouts and foldable capabilities to ensure easy storage.
With Bungee cords, you will need to replace the elastic cords when they start feeling sluggish and with less tension. However, quality bungee cords like the one present on JumpSport can last you many years without stretching.
 Metallic Springs system require lubrication at least twice a year for a quiet bounce. But, choosing a quality spring rebounder can last you for a lifetime. Quality and long Springs system are present on the Cellerciser, Needak, and Maximus rebounders.
I hope you find this list helpful so you can start making progress toward your fitness goal. At the end of the day, it is all about how much you are willing to spend on your health and fitness.
You may also find useful the following list
To Your Workout Success!!
Ria
References:
Mini-trampoline exercise related to mechanisms of dynamic stability improves the ability to regain balance in the elderly [study] pubmed.ncbi.nlm.nih.gov -2011 Feb 8.
Specialists have been calling rebounding exercise "The Best Exercises for Healthy Bones."  New York Times, November 11, 2009.
"Does Mini-Trampoline Training More Effective than Running on Body Weight, Body Fat, VO2 max and Vertical Jump in Young Men?" [study] – International Journal of Sports Science, 2016