Rebounding exercises can be super entertaining!. I believe absolutely that it is our duty to maintain our body and mind healthy. I am convinced mini trampolines are excellent for weight loss but also, can help you relieve stress. That's why I am about to show you the best mini trampolines under $200 so you can start your weight loss journey, and show the world the best version of you.
Before we start, let me give you some insight.
Quality mini-trampolines are an effective and reliable way to start or revamp your existing workout. The best part is that you don't need to splash hundreds of dollars, to begin with. The models we are going to show you retail at affordable rates of less than 200 dollars.
You can start jogging on a trampoline and losing weight by jumping 15 minutes a day. Of course, daily healthy eating is fundamental. With a little bit of discipline, you can do it, is not difficult!.
And, if you are wondering if you can burn real calories, you can also see our Full Article about how many calories you can burn by jumping on a fitness trampoline Here…
---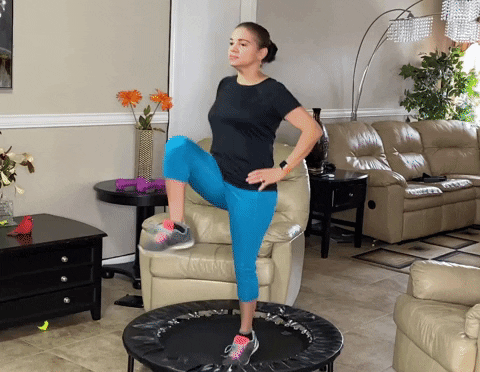 Other Benefits Associated with Mini-Trampolines:
According to Dr. Walker, in his book Jumping for health, rebounding helps your body to naturally detoxify by activating your lymphatic system.
Promote Weight Loss and Belly fat
 Increase bone mineral density
Now, to make an informed decision. Let's discuss some fundamental features.
When choosing a mini trampoline, check out the following features:
Weight limit: It is crucial to check the maximum weight capacity the trampoline can hold to avoid bottom out.
Safety measures: Your body's well-being is the most important factor in the whole workout process. Pay attention to safety features such as the handlebar.
Ease of storage: Rebounders are attractive fitness equipment because they are easy to store. Look for foldable capability.
Price: Depending on its construction's material and accessories included, the price of a mini-trampoline ranges from $60 to $700.
Of course, the more features, quality material, and comfortable bounce, the higher the price. But, not everybody can start their journey with a high-end mini trampoline, that's why we have done the research to find you the best mini trampoline you can get for under $200.
Without Further Ado, lets begin.
---
Best Rated Mini Trampolines Under $200
---
Maximus HIIT Bounce PRO
If you are looking for a convenient way to keep fit in the comfort of your home, get this fantastic trampoline. This mini trampoline from Maximus HIIT is recommended for cardio and toning workouts. It is foldable, which makes it convenient to keep away after the training. This trampoline features an incline kit essential to increase intensity when working out.
Additionally, this mini trampoline has the rebound mechanism vital in improving cardiovascular and aerobic fitness. In return, the trampoline guarantees strong muscles, burning of fat, and toning, especially on the lower body. So you know! This trampoline comes preassembled; hence, all you have to do is set up and start using.
What I like…
This is a perfect workout trampoline.
It is light for portability.
Can support a weight of up to 330 pounds.
It comes with extra workout accessories like gloves and a DVD.
What I don't like…
This mini trampoline is quite noisy, which can be distracting when used indoors (Remember to lubricate the springs in order to make the squeaky sound go away)
DARCHEN 450 lbs. Mini Trampoline
---
First off, you don't necessarily need to use this trampoline outdoors. The compact size can fit indoors as well. The bouncing bed has cushioning and excellent bounce to provide the perfect surface for working out. The trampoline has heavyweight material construction considering it can accommodate a person with a weight of up to 450pounds.
Some assured workout results you can achieve from this mini trampoline are weight loss, body toning, and muscle building. When working with the trampoline, your safety is guaranteed since it has six legs with padding to prevent the equipment from slipping on the floor. Thus, you can focus on your workouts.
What I like…
This mini trampoline has a soft bouncing surface
It s excellent for the fitness journey
It is much quieter than other models
Has quality and robust materials to hold heavyweights
What I don't like…
This trampoline does not come with a manual for guidance on how to assemble it
Some customers find it not safe for heavy people even though is advertised to hold up to 450 pounds
BCAN 40 Inch Foldable Mini Trampoline with Adjustable Foam Handle
---
Are you looking for fitness and fun trampoline for your family? This is a great choice. Meaning, you can use it for workouts, and your kids can use it for fun. The trampoline is safe to use both indoors and outdoors since it has weather-resistant materials construction.
The trampoline comes with a handlebar adjustable for support when kids jump and for adults when working out. Carrying the trampoline around is comfortable and easy since the trampoline is foldable. Also, you can easily keep it away when not in use. This mini trampoline has strong steel springs that provide an excellent bounce effect when jumping.
What I like…
The mat of the trampoline has waterproof materials
The trampoline has an adjustable handle for comfort
It is multifunctional to suit kids and adults
Comes with a warranty for quality assurance
Springs system that will last
What I don't like…
This mini trampoline cannot hold a weight of more than 330 pounds
MOVTOTOP Foldable Mini Trampoline
For beginners, I would suggest you get this trampoline for working out since it has safety features. The trampoline comes with an adjustable handrail for holding onto when working out for balance when bouncing on the mat. The mat has robust material construction and is tight to offer the best bounce when jumping.
For more stability, mostly when set up on uneven surfaces, this trampoline has seven legs for support and can accommodate a person weighing up to 220 pounds. I also like that it can fold in a quarter so you can easily store it.
What I like…
The trampoline has an adjustable handrail for support when working out
Assembling it is easy and fast
It has stable legs
The trampoline is safe for indoor and outdoor use
The legs have rubber caps to safeguard the floor
Last longer than most bungee cord rebounders
What I don't like…
Springs system requires maintenance to avoid squeaky noise
Some customers find it difficult to open the first time
Serenelife Indoors Fitness Trampoline Folding 48″
---
This trampoline has heavy-duty material construction that offers the perfect workout platform for cardio and other intensive workouts. The trampoline is right for the weight loss journey as it immense promotes fat burning and toning of the body.
A beginner can comfortably use the trampoline as it has an adjustable handrail that adjusts from 43 to 51 inches high. To save the storage space in your house, this trampoline comes in a foldable form so that you can keep it after use.
What I like…
This is a great workout mini trampoline
This trampoline is super affordable
It has an adjustable handrail for support when working out
Kids can also play on the trampoline
Durable
What I don't like…
This trampoline feels a bit flimsy and makes quirky noises even when used by kids
Difficult to assamble
YUSING 40 Inch Mini Trampoline
---
Whether you want to set this trampoline indoors or outdoors, it is perfect for both areas. The trampoline's heavy-duty material construction can hold up to 330 pounds and can't easily get damaged by outdoor climates.
The trampoline has 40 tightly fitted coiled springs that offer perfect rebound for adults working out and kids playing. The equipment has an adjustable handlebar for support, mainly when used by small kids or beginner adults.
However, note that the handlebar is removable. This trampoline has six legs to firmly secure it on the ground, even when set up on slippery areas.
What I like…
The trampoline provides excellent workout results
The equipment has non-slip legs for stability
It has quality steel materials construction
What I don't like…
Assembling this mini trampoline is not easy
Newan 40-48 Inch Silent Fitness Trampoline with Bungee Cords
---
One of the top features you will love on this mini trampoline is the quality material construction. It has a thick stainless-steel construction with a rubber mat for an efficient rebound. Besides, the trampoline can be used by a person weighing up to 330 pounds.
The trampoline is quite useful for working since it provides excellent workout resistance when jogging, improving muscle coordination, and even burning fat. Also, the trampoline comes with a T shaped handrail for support when jumping.
What I like…
This trampoline is suitable for indoors and outdoors
The trampoline has quality and durable materials construction
It is safe for kids and adults
The trampoline is ideal for indoors and outdoors use
What I don't like…
It does not come with an assembling manual, making it difficult to put the parts together.
Stamina 38-Inch Intone Plus Rebounder
---
Since we have been talking about improving our health and fitness, this budget rebounder is also very well rated and the Stamina brand is also a popular brand delivering budget fitness equipment.
The Stamina rebounder is very well made for the price. It provides a sturdy bounce and it also includes two resistance bands for upper body strength training with padded foam handles. With a weight of only 13 pounds, this rebounder is extremely portable, meaning it can be used indoor or outdoor.
What I like about this is that it includes a multi-functional electronic exercise monitor for leaps, workout time, total leaps, and burned calories per minute.
For around $50, this rebounder provides a good bounce to begin your exercising journey.
What I like…
Provide a cardio workout without a jarring impact on your knees
Electronic Display to track your progress
Low cost
What I don't like…
No warranty
Not ideal for vigorous exercises
2020 Upgraded Wamkos 40″ Rebounder
---
This rebounder is highly rated because of its sturdy design. It comes in a very nice blue camo and only weighs 17 pounds for a 40-inch frame. The mat is made of polypropylene to ensure a consistent springy rebound and high elasticity of the coil.
Wamkos rebounders can support up to 220 lbs. and has a durable construction, which makes it suitable for both children and adults. The trampoline is designed to fold, which is a great saver for the living room, bedroom, office, or other small space, etc.
It comes with resistance bands which bring the workout to the next level by adding strength training and muscle toning. As well as a lifetime manufacturer's warranty, and 30-day satisfaction guarantee.
People enjoy the sturdiness and how easy it is to assemble. As I mentioned, it is built for folding, but you will need a hand to do it. Additionally, users also bring up that the springs are directly attached to the frame, which may become bent upon use.
What I like…
Beautiful Design
Resistance Bands included
Lifetime manufacturer's warranty
What I don't like…
Springs attached directly to the frame don't last
6 Things You Should Do For Best Rated Mini Trampolines Success and Prevent Injury
---
Remember to set your rebounder in a visible place because as the saying goes "what you don't see is easily ignored".
Make sure you take things easy, especially at the start.
Always warm-up – You can start with the basic or healthy bounce for at least 2 minutes.
Make sure you place the trampoline in an even area.
Do it every day for at least 10 minutes.
Always ensure you have enough space above especially when jumping high.
Avoid making high jumps under low ceilings, remember that you burn more calories by doing repetition not jumping high. The time in the air is just for fun.
Always make use of athletic shoes when jumping.
Rebounding FAQs
---
1. How to lose belly fat with a mini trampoline?
There are no better fun way to weight lose and losing belly fat than rebounding and a proper diet. There are three main factors how a mini trampoline can help you lose belly fat: Gravity, acceleration, and deceleration. This up and down movement exercise every muscle of your body. The more repetition you do the more calories you burn.
2. What exercise should I do for sexy abs?
Toning your abs can't be more fun than exercising on your rebounder.
Sit on the rebounder
By lifting one or both feet from the ground, start bouncing. (as you progress you can bounce lifting both feet for optimum result).
Bounce in that position for 1 – 2 minutes. Increase time once getting more strength.
3. Why is rebounding on a mini-trampoline good for runners?
The reason is simple, you are going to be jogging and running indoor without hearting your joints. It is an excellent and safe way to start building strength in your legs.
4. Are bungee cords or metal springs better on a mini trampoline?
Both systems provide an effective home workout. Bungee cords tend to provide a softer and quieter bounce than the traditional metal springs system. However, elastic cords tend to lose tension faster than spring systems.
Rebounders loaded with metallic springs, can last you a lifetime but they need to be a quality spring to provide a balanced bounce not too soft and too firm. The bigger the springs (more coil) the better. It also activates your lymphatic system more effectively.
Overall, spring systems usually provide more bounces per minute which has a bigger health impact however, bungee cords are more fun to use.
You may find useful,
5. Are there Rebounding Workout classes or DVDs to follow?
Yes, most mid-range or high-end rebounder include access to their workout streaming platform and DVDs to help you reach your fitness goal. These added accessories help with your workout motivation since you will learn all the different exercises you can perform. As you know rebounding is not only jumping up and down.
You can do jogging and run in place, crunches, and many more.
6. Can Rebounding help you release stress?
Bouncing on a mini-trampoline creates a sense of excitement as a result your body increases serotonin and endorphins. A type of hormone that helps your brain regulate mood, sleep, and happiness.
Rebounding Benefits Proven Facts.
Numerous specialists are calling in "The Best Exercises for Healthy Bones."  New York Times, November 11, 2009.
ACE-Research: Putting Mini-trampolines to the Test, October 2016.
"Influence of a mini-trampoline exercise on insulin resistance", a study by www.pubmed.ncbi.nlm.nih.gov/ – Mar 1, 2017.
Science testifies rebounding exercise effectiveness!.
My #1 Mini-Trampoline Recommendation for Under $200 Budget
---
If you ask me what model is my #1 recommendation?, is the BCAN 40 Inch Foldable mini-trampoline. This brand has been proven to provide quality in this price range. The trampoline is crafted in lightweight form for convenience when moving it around. I like that it also includes safety features like the adjustable handrail or handlebar to provide support when jumping on the equipment.
However, for around $40 more you can get the Maximus Pro rebounder which is even better quality for not much of the difference in price.
>>>You can see Maximus Pro Rebounder Full Review here<<<
"Action is the foundational key to all success." — Pablo Picasso, visual artist
Life is very challenging, spend some time in yourself, watch for the quality of your lifestyle, and start rebounding for better health.
To Your Workout Success!
Ria