We, at Pro Better Version, believe in the benefits of home workouts. We all are living in a fast-paced world. Some of us might not have time to go to the gym or do exercise anymore. That is why home exercise and using workout tools are helpful.
Rebounding is proven to be as effective as running. This may surprise you just as much as it did to me. Studies including NASA scientists and ACE has put it to the test. In this article, you will learn about the two most popular rebounders that you can add to your workout routine, the classic Bellicon vs JumpSport 370 Pro rebounders.
Before comparing these two hot items, let me share some fun facts and benefits about using rebounders.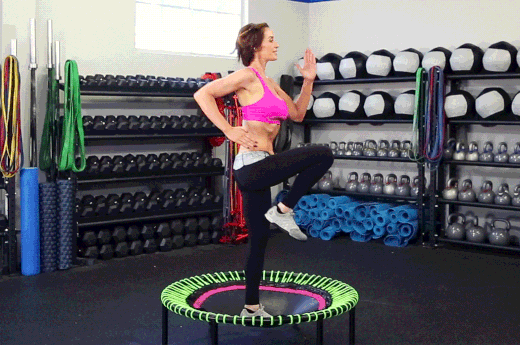 According to recent research by the American Council of Exercise (ACE), adding a trampoline to your exercise routine will do a better job when doing activities like walking or running.
Exercising with rebounders will help you do your routines while going easy on your joints. In fact, quality rebounders as Bellicon and JumpSport reduce more than 70% of the ballistic impact of running or jogging on the pavement.
It can also help improves the ability to regain balance
Activate your lymphatic system to naturally detox, moreover, makes your workout routine more fun.
The International Journal of Preventive Medicine found in 2019 rebounding exercise improves the quality of life in patients with Parkinson's disease.
Sports Med Phys Fitness study found that post rebound exercise shows significant improvements in insulin resistance.
So, let's now talk about the things you need to look for when buying a rebounder.
Classic Bellicon VS JumpSport 370 Pro Rebounder| Comparison Guide
| | Classic Bellicon | JumpSport 370 PRO |
| --- | --- | --- |
| | | |
| Rebounder Measurement | 39", 44", and 49" | 39" |
| Bouncing area measurement | 27", 32", and 37" | 35.5" |
| Frame Material | Black, powder-coated steel | Metallic charcoal alloy steel |
| Weight Limit | 440 lbs. | 300 lbs. |
| Mat Material | Woven Polypropylene (PP) | Permatron |
| Warranty | Frame: Lifetime; Mat: Five years; Cords: one year | Frame and Legs: Lifetime; Mat and Cords: Four years |
| Bounce Style | When buying consider providing your weight, so you get the right customization to get an optimum workout result | You can manually Adjust from 7 different tension. From Soft to Hard bounce |
| Streaming Workout Videos | 30 Days access to Bellicon Home | 60 Days of access to JumpSport Fitness TV |
| Price | $$$ | $$ |
What Makes A Good Rebounder?
An excellent rebounder must have quality in every one of its parts. Top rebounders or mini-trampolines comes with a high-quality mat.
Quality Mat
Bad quality mat tends to cone and rip with use causing your foot and ankle to pronate. You don't want that! The rebounder mat should be capable of resisting stretching and weather damage.
You may also look for a rebounder that supports you even if you are barefoot. The best mat you can get is made of Permatron. This is important because it allows you to bounce without the jarring effect on your joints. In other words, you will not be suffering from ankle or foot pronation.
Reliable Spring System
Another important feature to look at is the spring system. You will definitely find quality bungee cords on both the Bellicon Classic and JumpSport rebounders.
Quality rebounders loaded with bungee cords usually provide a smooth and gentle bounce. But, if you decide on a metal springs' system, go for the tapered steel springs'. It also offers a perfect bounce to anyone supporting different body weights and high as the one present on the Cellerciser rebounders and the unit tends to last longer.
Bad quality spring system on either of these two types of springs' can cause a jarring effect on the joints and the bouncing style may result too stiff or too soft for a comfortable bounce.
I also recommended buying springs'/bungee covers, it will keep your bounce safe especially if you will have kids bouncing on it.
Sturdy Frame
Another aspect to consider is the frame size and material. The more solid the frame the more support it can offer. Rebounder frames made out of steel instead of chrome or plastic are the best. Additionally, I highly suggest you look for a rebounder that has replaceable parts. I also find 40 inches perfect for either the healthy bounce or aerobic bounce.
Overall, bungee Cords rebounders are getting a lot of traction in the fitness trampoline industry. The bouncing style is gentle and smooth, quieter than metal springs' rebounders, and does not require lubrication.
Classic Bellicon vs. JumpSport 370 Pro Rebounders
---
The Company
Comparing the top best-selling rebounders, you need to know first about the companies and their customer service.
Bellicon is a franchise of a Swiss company, Bellicon AG, that was founded in October 2003 and franchised in the USA in February 2010, while JumpSport
was founded here in the US in 1996.
JumpSport is one of the biggest trampoline companies in the US market and has been here longer than Bellicon. As you already know, both companies are focusing on creating a healthy lifestyle.
These Companies are not only manufacturing mini trampolines but are developing workout videos and instruction guides to help you out throughout your workout journey.
Either Bellicon or JumpSport offers excellent products and services. So far, as I read hundreds of reviews online about the customer service, both of these companies are superb. Both of their official websites have frequently asked questions (FAQ). If none of it answers your concern, you can chat or contact them through their contact number flashes on their website. You can also fill up some forms if you don't have time to take calls.
The Frame
Classic Bellicon is made in Germany. It comes with steel and covered in a black powder-coated frame. It looks matte finish to me, though. Even though the classic is not made out of stainless steel like the Premium Bellicon which by the way, is its main difference, the Classic Bellicon is powder-coated steel and is also made to last. The Bellicon Premium thought, uses anti-septic stainless steel which prevents it from weather, corrosion, and rusting. But, it is always advisable good care.
For your peace of mind, either rebounder comes with a lifetime warranty on the leg and frame so you don't need to worry about it.
Choosing the Classic Bellicon Almost Everything is Customizable From Size, Strength, Color, and Comfort
To get a great comfortable experience from Bellicon you need to wisely configure the setting that suits your needs and preferable color at the time of purchasing. The mat color and the bungee color can be selected separately. You also have to choose the tension of the bungees according to your weight.
The below chart will help you decide on the right bungee tension

Bellicon Classic has three different sizes available: 39″, 44″, and 49″, and the jumping space on the 39″ is 27″. I recommend either 39" or 44" for either healthy or aerobic bounce for people under 6 feet tall. I found, the biggest the mat the more room for ankle pronation. Of course, choose the best size that better suits your needs and height, plenty of options always provides convenience, aside from fitting to your living space.
On the other hand, its counterpart JumpSport 370 PRO is made out of steel alloy and a metallic charcoal frame. The company has multiple models but for this comparison, we are focused on the 370 Pro Model which is made of industrial elastic cords to back you up for many years of bouncing.
The JumpSport 370 Pro featured a 39″ frame with a 35.5" Permatron jumping surface (27″ without the petals' area) and a height of 12.5″. The JumpSport is also proud of its own no-tip black arched legs. These designs will enhance safety so you can feel more secure when bouncing.
If you are taller than 6 feet you may consider the 44″ or 49″ of Bellicon to comfortably bounce with open legs or the JumpSport 550 Pro which is 44″ and is also foldable.
Legs and Storage
Both the Bellicon and JumpSport rebounders are easy to store. Without paying extra you got the screw in the leg in both rebounders. But with the Bellicon Classic for around $80 more you also have the option to get the newest system which is the collapsible spring legs.
I prefer the collapsible option because it is easier and faster to set up but either system allows you to easily store or hiding the rebounder after each workout.

How is the Warranty Between the Classic Bellicon vs JumpSport 370 Pro & How Easy is to Assemble
---

Both units, the classic Bellicon and the JumpSport comes pre-assembled with the bungees attached, so you just have to screw in the legs to start jumping. It is pretty simple!
Warranties for the Classic Bellicon
Frame: Lifetime Warranty
Rebounder mats: 5 years
Bungee cords: 1 year
Warranties for the plastic leg inserts and rubber foot: 2 years
Warranties for the JumpSport 370 Pro
The steel frame and legs: Lifetime Warranty.
Rebounder Mat: 4-Years
Elastic bands: 4-Years
The rest of the parts 1 year
The Bungee Cords and the Bounce Style
---
One problem with the Bungee Cords system is that you need to have the right tension for a comfortable bounce and to avoid heating the ground while bouncing high. The Classic Bellicon and JumpSport 370 pro both use bungee cords on its rebounders instead of metal springs'.
Let's start with JumpSport 370 pro with its own 36 adjustable bungee cords.
I find with the FlexBounce connectors featured on the JumpSport elastic bands; you don't need to worry about getting the proper tension that is suitable for your weight. Instead, the elastic system allows you to adjust the resistance to up to seven levels for your convenience.
What I love about Bellicon is the bounce style but, you need to choose the right strength or tension on the cords before you order the rebounder so it can provide the perfect bounce that suits your weight or height of the people bouncing.
Choosing the JumpSport 370 Pro AnyBody in the Family Can Experience the Same Bounce Comfort.
On the other hand, I find the JumpSport 370 pro a better alternative for the whole family since anybody in the family can bounce choosing the right tension.
Out of the package, JumpSport 370 Pro rebounders come with the softest tension, which I found great for people under 150 pounds. The firmest, on the other hand, is more effective for calories burning. On top of being able to adjust the cord tension, I love to see that JumpSport uses its own four EnduroLast elastic cords club tested for 1.2 million bounce cycles. This is a ridiculous awesome number.
The Mat
---
With JumpSport 370 PRO you get a mat made of Permatron which is top of the line material. It also comes with a petal pad overlapping the jumping surface. With that, the company says it will give you an extra jumping space but many customers find it is not stable enough to bounce on top of the cords.
Using the high-end Classic Bellicon, you get woven polypropylene (PP) that is a remarkably sturdy mat. The colored ribbon is also handy since it will help you see the edge of the jumping area for your safety. You also have an option to enhance the mat by adding a cover pad like the JumpSport 370 pro but for an extra cost.
If you get the classic Bellicon you will be able to customize the color of your rebounder. For people looking for a rebounder to jump high, safe, and comfortable, the Bellicon is the best option. Bellicon can be bouncier and softer than JumpSport when choosing the soft bungee tension. Just keep in mind that you also will get less bounce per minute than the JumpSport.
I also like the nine different mat ribbon colors you can choose to match with your 11 bungee cord colors. You can even choose from multiple custom color combinations.
Now let's talk about if the Classic Bellicon and JumpSport 370 pro can inspire you to be consistent to workout at home.
How Easy is it to Engage in a Home Workout Using a Rebounder?
---
Undeniably, sometimes we feel lazy just by the thought of the exercise. Instead of exercising, you will just scroll to your social media accounts or watch television. But can these fitness equipment help you fight that urge with their exercise program and workout style?
I can talk for myself but also resonate with the experience of online reviewers. Training with a mini-trampoline at home is a great move. It can revamp your existing workout and diversify your routines. Jumping on a trampoline is easy and fun and anybody can do it.
Training with a rebounder will transform your gravity into a cardio-boosting, muscle-toning, fat-burning workout that not only improve your overall health but to enhance your balance, strengthens your bones, and increases flexibility without the ballistic impact of jogging or running on pavement.
Bellicon Home Streaming Service
If you decide on a Bellicon, you will get a free 30-day trial subscription to their Bellicon Home streaming service to guide you to the best shape of your life.
Bellicon Home is Bellicon's training platform with over 400 training videos that you can choose from. By watching their videos, you can get new ideas on how to incorporate your trampoline into your routine. Something else I like here is that you can see your progress on your personalized dashboard.
JumpSport Fitness TV Workouts

For JumpSport 370 pro, you will also get a free trial subscription to their professional streaming videos. Compared to Classic Bellicon, it will allow you to access their JumpSport Fitness TV for 60 days. Also, their videos are accessible, whether through your phone, Apple TV, desktop, laptop, or even DVDs. You can also opt for the Kids version DVDs, it is also fun!. 🙂
As I told you before, the result of either of these training programs is a full-body workout that's truly fun, invigorating, and fully convenient for anyone who doesn't have much time or simply is not inspired by a traditional workout.
Customer's Ratings

In my experience of the rebounder industry and a vast number of customer reviews, the Classic Bellicon and
JumpSport 370 pro, both of these rebounders mostly got a five-star rating for stability, sturdiness, and how easy it is to assemble for its customers.
Enthusiastic customers also offer a higher rating over JumpSport with 4.9 stars without getting any one-star rating in the Amazon Store at the time of this review.
I also checked a third-party customer review platform, the Trustpilot. Overall score,
JumpSport got an excellent 4.7 stars. Most of the customer reviews are about the greatness of JumpSport products and their customer service. I tried to look for Bellicon but almost found nothing.
Now that you know that a using rebounder or trampoline will help your body stay healthy whatever age you're in, it is only a matter of choosing between these two brands.
Which One Should You Buy?
---
I found each of these rebounders a great choice for beginners and experienced users alike. I must say both of these products are excellent in their own ways.
However, if you want to know which I found is overall better for your investment, in my opinion, is the JumpSport 370 Pro.
I prefer the JumpSport brand because several reasons: It is more affordable; safer with the patented arched leg design, both rebounder brands have a lifetime warranty on the frame but the JumpSport bungee cords has 4 years warranty instead of 1 year. Also, you can switch between different tension so anybody in the family can bounce comfortably.
Moreover, EnduroLast cords have been club tested to last around 1.2 million bounce which is because this product has been designed for the rigors of home and professional use.
>>>>>Click here… To see the JumpSport 370 Latest Price and more user reviews
>>>>>Click here… To see the Bellicon Classic Latest Price and more user reviews
Rebounding FAQs

How high does my ceiling have to be to use a rebounder?
In general, the rule is that your ceilings need to be 2 feet taller than the user. So if you're 5 feet tall, you need a 7 feet ceiling.

2. How many calories can I burn on a rebounder?
According to ACE, training on a trampoline is really effective and the workout doesn't feel as intense as it really is. You can burn between 300-500 calories in 30 minutes in either one of these rebounders. You can download the .pdf Full ACE Report Here…
3. Can a Senior use a rebounder?
Yes, and you can see the multiple benefits for seniors HERE…
4. Will Rebounding help me lose belly fat?
Yes. Rebounding is a form of Aerobic exercise (cardio) and it is an effective way to burn extra calories. Science has proven that it's one of the most effective ways to workout for reducing belly fat.
5. Top 5 Benefits of Rebounding
Boost Weight Loss
Cardio Training
Activate your Lymphatic System
Improve Balance & Mental Health
Rejuvenate and Recharge Your Body
You can see more Benefits HERE…
Final Verdict:
Choosing a rebounder to exercise will assure a workout without a jarring effect in your joints and the setting can in both brands be personalized for the optimum experience.
You may choose the classic Bellicon if you want to have more choices in size, colors and if your intention is to bounce higher. With either of these brands, you can store and transport the rebounder easily by either choosing the folding-legs type over the screw-in type.
I highly suggest the JumpSport 370 pro over the classic Bellicon if you want to have lightweight rebounders. It will help you easily move it around the house. This is also your option if you're looking for a more affordable product. Bellicon is top quality but also the most expensive brand for rebounders. It will come with all the bells and whistles but it comes short on warranty and workout video access.
To Your Workout Success!!
Ria