Do you know you need to move to burn calories and get fit? Exercise without proper desire has limitations and the chances to develop the habit can become difficult. Doing a fun exercise can give anyone something to be excited about, even in the toughest of times. Today we are going to talk about how to enjoy exercise. In other words, we are going to show you how fitness can and should be fun. 
With practice and a correct mindset, people can learn to have fun while exercising. 
I can tell you that when you were a kid, you probably moved for the fun of it, but in our lifestyle, it seems that any form of exercise beyond what's necessary becomes a difficult chore. But, there is good news, many working families know exercises are meant to be fun. 
We all know that being fit is maintaining a healthy habit and this guide is to help you get on the right track, give you an idea to motivate you to START, and subsequently achieve your fitness goals.
Here Are the Tips that Can Motivate You:
---
1. An important Technique to Increase Motivation is to find the exercise you enjoy and have fun while doing it.
2. Research has shown that People Tend to Enjoy Physical Activity More When They are doing Something new.
3. Participating in Group Activities or Classes is also a Very Good approach.
4. Make sure You Don't Run Out of Energy
5. If Time is an Issue, Find an Exercise That you Could do on your own.
6. Choose an exercise you enjoy
7. Make it a New Family Tradition.
AN IMPORTANT TECHNIQUE TO INCREASE MOTIVATION IS ADOPTING THE RIGHT MINDSET
The correct mindset is having a positive thought, the courage, and internal confidence that you are going to make progress toward your fitness goal. A hobby is a hobby because you enjoy doing it. Taking action and time is what you need to master any skill.
 Learning and trying different exercises and movements is part of the process to make it enjoyable. Exercising can be fun but you need to find the exercise that motivates you and this takes time, you also need to develop the habit but all is part of the process and mindset.
You can make exercise a fun activity for a lifetime but the key is to START trying different activities, you can even involve the kids and your partner for added fun.
CHOOSE AN EXERCISE YOU ENJOY
We probably do not always agree with what others think is fun. Spinning Hula Hoops maybe not be your cup of tea, but an Irish dance class tickles your toes. Skydiving makes your heartbeat just a little too fast, but a row in the lake floats your boat.
Now, there is one important variable, and that is how you can personalize and put fun into your fitness routine.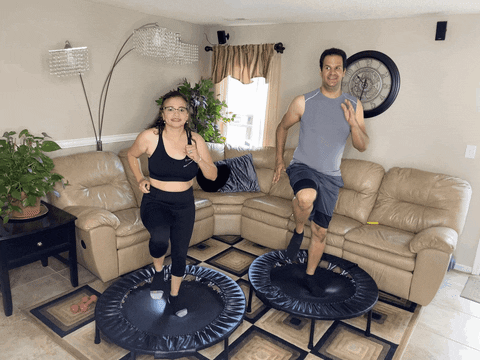 To give you some ideas, involve your family and friends in your activities. Do Something new or even something old. If the last ballet class you had was great in the third grade, why not try it again. There are different forms of exercise you can do for a more active lifestyle.
Below are great ones you can add to your schedule to find the ones that make your fitness activities more fun. These are some that I love to do as well.
Fun Exercises You Can Start Today
---
Jump rope (excellent to burn massive calories)
If you like to dance, Zumba Training is a very invigorating activity
Aerobic bounce on a fitness trampoline– It is also super fun and easy to follow, moreover, you can do it from the comfort of your home
Go for long or quick walks with your kids. They will enjoy it as well
For athletic sports, a good option is simply going to a batting practice cage or facility. You could also help the kids practice Basketball or volleyball, keeping your body active.
Follow a workout program, streamed and in the comfort of your home.
Rock climbing is a great possibility to consider.
These are some forms of exercises that you can try yourself but please do it for at least 30 days each one before moving to a different activity. This will ensure your body and mind adapt to the particular exercise. Then is when you can decide if is something that you can enjoy. Again try it for 30 DAYS. 
STUDIES HAVE SHOWN THAT PEOPLE TEND TO ENJOY PHYSICAL ACTIVITY MORE WHEN THEY ARE LEARNING SOMETHING NEW
Many people may be intimidated at the thought of learning new things. If you consider it as an opportunity to learn something then, physical activities will become more fun. Achieving your goals will no longer be a daunting task like that.
Researches have shown that people tend to enjoy exercise more when they are learning something new. If you are doing the same activities over and over it can become boring at some point. I personally love JUMPING ON A MINI TRAMPOLINE but I also like to go for long walks and help the kids with sports.
Trying a different and non-conventional workout often times brings a freshness to the routine that will boost motivation and enjoyment of the act itself.
PARTICIPATING IN GROUP ACTIVITIES OR CLASSES IS ALSO A VERY GOOD APPROACH
---
Seeing other people having fun while they work out, increases motivation and will revamp your daily routine. People you enjoy being around will make you feel like you all are just "hanging out" instead of exercising.
You could try to participate in fitness groups or community activities that help you with your daily exercise goal. The CDC recommends 30 minutes of cardio exercise 5 days a week and 3 days for strength training. Doing those in a group setting will make it an easy goal to achieve.
When you are part of a fitness group, you will experience a different dynamic. In the beginning, you may feel shy but for sure there will be others feeling the same. Many will even be looking for similar goals, networking, motivation, weight loss, distractions just like you are. TRY IT! You will never know how it will affect you positively if you don't.
IF TIME IS AN ISSUE, FIND AN EXERCISE THAT YOU COULD DO ON YOUR OWN
---
Finding an exercise that can be done at home may increase your motivation.
If you think that time is an issue and cannot devote too much of it, you must create your own fitness routine.
Find a workout program aligned to your goals. You could even start with FREE YouTube videos. If you like dancing you can start with Zumba or Aerobics.
If you worry about joint pains you could try getting a piece of fitness equipment such as an elliptical, or fitness trampoline.
Avoid being sedentary but also eating healthier, sleeping well, and doing exercises is key for a healthy and balanced lifestyle.
MAKE SURE YOU DON'T RUN OUT OF ENERGY
---
The chances to quit exercising altogether are pretty high when you end up with zero energy. In my case, oftentimes I was ending my days with an empty tank, even though I wanted to exercise badly, I felt it was an almost impossible task to do. If that is happening to you, make sure you are sleeping well, and eating a balanced diet.
Fortunately, there are many supplements you can also add to your diet to enhance energy. Creatine [1,2], Citrulline [3,4], Vitamin B12[5], are great options backed up by science to decrease fatigue and will allow you to train harder and longer.
MAKE A NEW FAMILY TRADITION
---
Plan the camping trip, line up the bikes, choose a walking or hike trail that is manageable to everyone, jump in the mini-trampoline to your heart's content.
There are many activities that can be done as a family and that will create lasting memories for everyone. Many of them are easy to plan and easier to enjoy. Some of them can be done at home, around your neighborhood, or in nature. Start today and make it a family tradition to do active things together.
If you feel you need to take a step forward and start right away, congratulations! you are on the right track to improving your and your family's health.
Children model their behavior after us. It follows then, that sedentary parents are more likely to have a passive child.
On the other hand, it stands to reason that an active parent will, more likely than not, have active children. So, let's do our part, as a parent you could find passion and enjoy being fit while supporting your kids for a healthy living.
FINAL THOUGHTS
Maintaining your body fit and healthy requires commitment but is not a difficult task. You need to develop the habit as well as finding the exercises that you like. Fitness is fundamental in today's way of living and can be fun with the right mindset.
Instead of thinking you don't like it, let's start taking baby steps and trying different forms of exercises until finding the one you enjoy the most. I assure you that you will reach your goal and start enjoying it in a short time.
I hope you have found this article helpful. The techniques and tips provided are proven ways to help you and guide you on how fitness can be fun for you.
If you have any question, please leave us a comment below, we are here to help you become the best version of you so you can leave life to the fullest.
To your workout Success !!