People ask all the time how to start working out at home when you have zero experience. This is a fair question because you do not want to get injured, you also want to be effective and you want to get good results.
So, if you are looking to tone up your body, lose weight, combat stress or depression or gain strength and endurance then, working out at home is the perfect place to start and I will show you how.
The habit is not just a great idea, but also makes a lot of sense. Your home is a place you spend a lot of your time, where you face your biggest temptations, and where you have the most support.
No one's perfect and "Pro Better Version" and the online community is here to support your effort toward becoming the best version of you.
You may be faced with many chores and responsibilities, kids, school, and probably, do not have a lot of free time. So, in this guide you will find all you need to know to start taking action and experience the benefits of home workout.
Lets get started Shall we!!
How to Start Working Out at Home | All You Need to Know Before You Begin
Out of the box, working out at home has multiple benefits
Benefits of working out at home
You have the opportunity to work out at any time and split your routines if needed
You don't have to deal with all the crowds at the gym and can wear whatever you want
You will enjoy the workout from the privacy of your home without the need for a babysitter for your children
You will avoid the daily commute and will be directly responsible for your progress
You will save on gym memberships and won't have to worry about Germs as much
You will save time and as a result, fewer excuses to workout
10 Health Benefits of working out that you might not have known about
Choose the exciting habit of working out because your life matter, it only takes 10 minutes for your first workout, and two weeks to start feeling the difference and sometimes you even feel it immediately.
Ø  Creating the Habit
---
If you're going to make this a habit, do a 21-day Challenge so by the end of the challenge, your habit should be pretty well settled. Choose an activity you feel passionate about it and, sometimes, that takes a little experimentation. Fall in love with that activity. Don't try to do something that you hate because you'll never do it. Treated like any other important task, put it into the calendar, and set a time. If necessary send yourself a reminder.
Create a goal. The goal doesn't have to be an hour workout. Start 15 minutes a day.
Having another person who is also working out will help you to be accountable. You don't even have to train together just share the progress you are getting, talk about your goals, or even the new workout gear you get to maintain cheer focus.
During busy days, it's important to remember that some physical activity is better than none!
Ø How Much Exercise is Best for Health Benefits to appear?
---
Cardio. You should do 150 minutes (or about 30 minutes, five times a week) of moderate-intensity aerobic activity a week. It can be substituted with at least 75 minutes of vigorous-intensity aerobic throughout the week or a combination of both.
What Type of Workout Should You Do?
Do you want to workout to improve strength and endurance?
If you want to improve strength and endurance in your bones and muscles, you'll want to do some sort of resistance training like,
Weightlifting
Aerobics
kettlebell Z press
Pull up
Push-ups
Resistance Bands
Interested in a full-body workout to improve your health or lose weight in a shorter amount of time
---
High-intensity interval program (HIIT)
Cycling (indoor or outdoor)
Treadmill, Rowing, and Elliptical Machines
Rebounding (Trampoline exercise)
All of them are effective and highly recommended to improve your health and promote weight loss. If you want to lose a pound a week, create a 3,500-calorie deficit by adjusting your diet eating 250 calories less every day, and burning 250 calories through exercise. Losing up to two pounds a week is safe.
High-intensity interval training (HIIT)
It's a form of cardiovascular exercise focused on alternating short periods of intense anaerobic exercise with short recovery periods in between until you are short of breath to continue.
You can do an effective 20 minutes workout sessions three days a week. This type of exercise is so popular and attractive for the at home workout community for its efficacy and truly short burst exercises.
Walking, Jogging or Running
Note: We all know walking, jogging, or running are a great form of exercise for weight loss, but you might like to try some other type of exercise as well if you are worry about the jarring effect on the joints. Science has shown that jumping on a mini-trampoline is as effective as a traditional running exercise. It increases maximum oxygen consumption and reduces fat %. (20)
Exercise Habit Can Be Totally Fun!!
My Favorite Cardio Workout Tool – Mini Trampoline (Rebounding)
It's true! Rebounding is my favorite daily workout routine and its because by jumping and bouncing, you naturally workout your entire body. It is an excellent and fun way to relieve stress and burn fat. In fact, rebounding on a mini-trampoline offers multiple health benefits you likely haven't heard of.
Detoxifies your Lymphatic System ( Flush out toxins and impurities)
Strengthens Muscles
Improves Coordination and Balance
Increasing Blood Circulation (prevent fluid retention)
Increases Bone Density (Prevent osteoporosis)
Improves your happiness
Muscle Toning
Improves good posture
Excellent for Weight Loss
Fun exercise; makes it easier to stick with
Don't believe me experience it yourself!!
Studies by the International Journal of Sports Science, NASA, and ACE have demonstrated that rebounding exercises are considerably more effective cardio workout than running. The study shows the ratio of oxygen consumption, compared to biomechanical conditioning, while using a trampoline was sometimes more than twice as efficient as treadmill running and people in the test found it more fun.
Why do I Recommend Rebounding on a mini Trampoline?
Low impact in your joins (to receive this benefit, using a high-quality trampoline is important; cheap one may not absorb the impact effectively)
Aerobic. A fun way to increase your heart rate to strengthen your heart
Versatile. You can try a variety of exercises including jogging, jumping, and twisting indoor
Affordable and Convenient. Allow to workout at the comfort of your home for a minor investment comparing it to treadmill cost.
Safe. Rebounders can come with an optional balance bar that ensures safety with proper use and case almost zero impact on the joints.
So, in order to get in shape, you don't need a treadmill, and you don't need a lot of time to get into the best version of you. This form of exercise is designed for all fitness levels, and I suggest you start bouncing for 10–20 minutes three times per week.
 Looking to increase your energy and overall health?
---
 If so, then the perfect workout is the one that you can enjoy and do regularly. You can start moving your body by walking, jogging, running on your own or with your friends. You may also like one of my favorites, rebounding on a mini-trampoline or Jumping Rope, kickboxing, or High-Intensity dance. All are great options!
Looking to Release Stress or Mood-Boosting
---
You can try one of the most helpful workout to improve mental health such as relieve stress, mood-lifting, anxiety or depression
Trampoline exercise (Most fun & Full Recommended)
Aerobics classes
Zumba dance
Cardio machines ( Rowing and Elliptical trainers are my Favorites for home use)
Spinning
Jogging/Walking
Swimming
Cycling
Cross-country skiing
Kickboxing
Remember, Start slow to keep motivation going!
When rushing your workouts, you are putting your health and workout habits at risk. The goal is to start slow, build up your fitness level and let your body rest to recover, and to prevent injuries.
Established workout routine as well as determination are key for a home workout success.
How to Get the Most of Your Home Workout When You Are Just Starting
It is very tough to undergo a home workout when we lack direction. What to do? Who can help me? How many reps?  I mean, I've seen many women there. To establish a home workout and to ensure that what you are doing is effective, it is recommended that you follow a training program focused on your goals.
"Always walk through life as if you have something new to learn and you will." — Vernon Howard
These programs can be found online through various companies and services.
Let me offer you some insight,
What can you expect from a home workout program?
---
A good workout program tells you exactly which workout to do on what day of the week, for how long with no guessing. You don't have to worry about what type of exercise to perform each day or how many repetitions to do. All you need to do is follow the training without distractions.
Most of the time you will have a person modifying each workout in case you need a less intense set of movements. This will help you complete each program at your own pace and still see meaningful results.
These programs usually are divided into sessions for beginner, intermediate, and advance. You can also choose an individual workout plan based on your goal: bodyweight, strength, muscle building, core exercises, balance training, or flexibility.
Some workout training has options to narrow down the exercises based on categories like low impact, abs, legs, or full-body workout. Daily routines on demand are also available for people who love kickboxing, Yoga, Aerobic dance, or cycling classes. Be surprised that some even offer workout classes for pre and postpartum.
Tough as nails routines are also part of the programs, HIIT, TABATA Bootcamp or circuit where in just 25 minutes you can burn hundreds of calories.
How do Home Workout Programs Work
---
Like any streaming service, you normally pay for access to the service. You are given options as to the frequency of the payments, normally receiving discounts the most time you buy.
Most, if not all of these services are designed to be streamed from you PC/laptop, any of your iOS o Android devices, Amazon Fire, Roku apps or Apple TV. With that said, you should always check first to make sure you can stream your workouts where you want.
The program that you choose needs to be aimed at your goals. If you are looking for cardio training you are not going to go and pick yoga classes for example. The best training plans are the ones that offer a great variety of exercises and that they also allow for a free trial before committing.
Generally, this online classes are pre-recorded and are available on demand. But sometimes these online platforms will offer live services for their users to tune in.
In order to get the best bang for your buck make sure you choose a program that offers a free trial, this will allow you to check things around, like the different categories and routines on offer and even try many of the exercises first.
How much an online workout program cost?
Some streaming workout programs can get pricey, but most are usually less than the cost of a single class at a fitness club.
An average gym membership is around $60 per month but if you choose to workout at home you are going to see great results and will end up paying around $5 to $15 monthly for a professional online workout plan.
Do I need any special workout equipment to Start?
Most of the time no, but dumbbells, resistance bands, cardio workout equipment such as a rebounder or a bicycle are convenient items to have at home.
Strength Training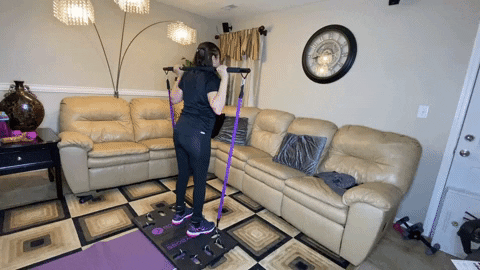 If your goal is strength training to tone your muscles, I recommend getting the BodyBoss System resistance band. With the package, you get access to a 3-weeks program (optional) FREE and the possibility of a one-to-one coach once you get the resistance band.
I liked it because it helps improve your posture which is essential for beginners. You can learn all the movements during the trial and then start on your own. You can also keep accessing their streaming gym club for a monthly fee, which is pretty affordable, I believe is less than $5 a month.
Cardio Workout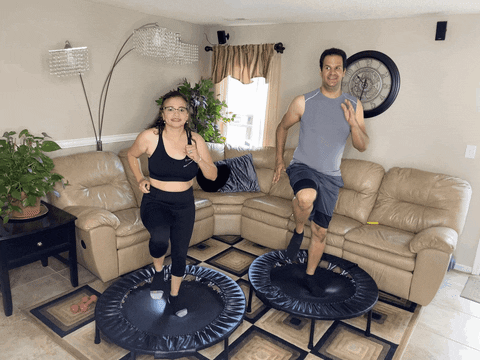 If you opt to get a cardio training mini trampoline, my #1 recommendation is the Cellerciser. This brand provides top-quality rebounders, it is built to last and also comes with safety features so your money will be well invested. On top of that, it comes with a Workout DVD with all movements you need to learn to target all muscles.
You also have the opportunities to access their coaching service for optimum results. Anyone can use it, senior, beginners, or athletes. You can see our Cellerciser FULL REVIEW here.
With this joint-friendly cardio equipment, you will be looking to exercise instead of feeling exercise "another task to do". Jumping and bouncing will make you feel happy, personal Experience!!
Get Into the Hard Working Mindset
---
 Life doesn't normally clear the way for us to work out and see results. But if you want it badly enough you will make the time.
Take an honest look at where you really spend your time, you may be surprised. You can start by sitting on your bed and asking yourself what are the things you are doing that are taking most of your free time. Then, get rid of them or decrease the amount of time you spend on them so that you're so that your life improves.
Make sure that you allow ample time for your training routine so that your body can get accustomed to it. Stick to one program once you have decided on one because jumping from program to program may not yield the results you want.
Like everything in life, your goals and dreams are only achieved after immense effort and perseverance. If you are only exercising sporadically it will be difficult to see quantifiable results.
Some tips to keep yourself motivated
Set a clear goal and decide on the Purpose and why you are doing the exercise
Start slow until you build up strength
Find a good workout program you can follow
Push Yourself to make the workout at home a daily routine
Be patient with your results
Share your progress with a friend or loved one
Final thoughts
Don't deny yourself the opportunity to learn how to successfully achieve your home workout goal, even if it costs you money it will end up being an investment to your health and fitness level.
Before you start, envision yourself being the best version of you and think how you would feel when achieve your goals. Always keep that image in your mind's eye and use it to push yourself to the limit
Give yourself the opportunity to exercise at least 15 minutes on those days you don't want to do it at all. Moving your body with intent to get in shape is already an accomplishment.
To your workout success!
Ria