When is someone too old to exercise? Some of us maybe feel that we've reached the point where getting out of a chair is a lot of work. Understandable!
But, what if I told you that rebounding can make you feel younger and healthier again? Would you do it? This brings us to the question, what is the best rebounder for seniors?
A wonderful question because science has proven jumping and bouncing improve your sense of coordination and balance. It is a great exercise for your bones and can even boost your motivation to workout at home.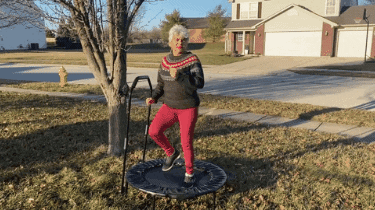 What brand, model and features should I be looking for? That's what we are going to cover next. We are also taking into consideration safety, comfort bounce, quality materials, storage, and warranty.
Let's check this out,
The Best Rebounders for Seniors
---
Cellerciser Rebounder with Balance Bar
The best exercise equipment for seniors is the one you can actually use and be consistent with. Hands down! However, Cellerciser provides a very effective bounce (100 bounce per minute), it is a stable unit, and the quality is fabulous. There are no plastic parts on this rebounder.
With this fitness trampoline you can:
Safely do your cardio workout without having a ballistic impact on your joints. It prevents up to ⅞ of the ballistic impact of jogging. When compared with other cardio equipment such as a treadmill is also very affordable.
It delivers an effective cardio workout allowing you to burn 8-10 calories per minute. Can support up to 300 pounds and has a built-in durable 40" solid steel frame.
The springs of this unit auto-adjust itself to the weight and movement of anyone bouncing.
All models from Cellerciser can easily fold with the legs and frame so you don't have a problem with storage.
I like the all-steel construction and the Electroplated finish on the frame. It is fully weather resistant. The mat is also built to last because of the permatron fabric that doesn't stretch or rip with use.
The balance bar can be purchased separately as an accessory but I encourage you to consider getting the one with the balance bar included. It can help beginners and seniors to get in and out of the rebounder, provide stability, and can help you with the more advanced workout.
What we Don't Like..
Springs Lubrication is required at least twice a year to get a nice quiet bounce.
The bi-fold model can be too heavy for a senior to carry on the shoulder (34 pounds).
I have no doubt this equipment will give you a lifetime of benefits. If you are struggling with pain, stiffness, or other age-related symptoms you can benefit greatly from a cellerciser unit.
Want to know more about the cellerciser rebounder? See our FULL REVIEW HERE…
JumpSport 370 PRO
---
I definitely recommend the JumpSport 370 for our seniors. JumpSport is one of the largest trampoline companies in the US.
With JumpSport 370 any senior can exercise every muscle and cell of the body. This unit has a durable sturdy metal frame, uses Permatron mat and it is also suitable for all the family independently of weight or high.
You would love to see:
JumpSport 370 gets the job done in a safe, quiet, and fun way for an affordable price.
It features the FlexBounce connectors on the elastic bands. So anyone can choose between 7 different settings. With it, you can adjust the right tension for a comfortable and secure bounce.
It supports a maximum load of 300 Pounds and it doesn't pronate your ankles, a common issue on Bungee rebounder brands.
In the package, you get a basic start workout DVD to introduce you to the healthy bounce and other aerobic exercises.
We found your money will also be better invested in this unit than any other higher priced BUNGEE rebounder. It doesn't fold or come with the balance bar but in terms of quality and silent bounce, it delivers and is also more affordable than other brands.
I relate to the saying "what is out of your sight is out of your mind". Seeing the rebounder all the time in your living room will help you have more opportunities to use it.
What We Don't Like…
Not Portable
Does not have versatility for storage
Replacement parts are currently not available online so you will have to call their Customer Service Department if you want to buy a replacement part.
Want to know more about the JumpSport 370 PRO rebounder, check out our FULL REVIEW HERE…
Maximus Pro Rebounder
---
The Maximus Pro rebounder is our #1 pick Mid-Range rebounder for seniors. Is the most versatile rebounder on the market PLUS all the included accessories make this rebounder an easy choice. What I love the most is that for under $300, the unit comes with the balance bar, resistance band, 2 workout DVDs, and sand weight.
Other features you could enjoy:
What We Like…
It comes with workout DVDs and many reviewers rate them as fun and challenging but a little for beginners.
The unit is extremely portable
Durable 40-inch metal frame with the standard 32 metallic coil springs'.
What we don't like…
A few users find it difficult to fold by one person when new
Poor warranty coverage
The stability bar cannot be adjusted.
Want to know more about the Maximus Pro rebounder, check out our FULL REVIEW HERE…
NEEDAK Soft Bounce Rebounder
---
This rebounder model has a lot to give for a senior because of the soft and smooth bounce style. You can pick from two different models, the soft bounce model or the hard bounce. The soft bounce is Needak's most popular version and the one I recommend for seniors.
It comes with a 40" steel frame, and 30" bouncing surface, 36 soft bounce springs', and a Permatron Mat. If you choose the soft bounce model, know that it supports users up to 300 pounds while the hard bounce model can get you to 600 pounds.
Other great features from this rebounder are:
The soft bounce model absorbs an estimated 85% of the ballistic impact on the joints. With this rebounder unit, you get a good resilience for a good workout while at the same time it protects your back and your knees.
This rebounder is best for people with back problems or who are lightweight. It is manufactured in the United States and truly delivers a high standard of quality.
With the two available versions, you can opt between the foldable or Non-foldable version. Legs and frame fold for easy storage. Some customers find it a little difficult to fold when brand new though.
Needak rebounder is priced cheaper than Cellerciser and, like the Cellerciser, the package does not include the balance bar. It does not include the Spring cover/frame skirt either. Both can be purchased separately. I highly recommend the balance bar for seniors.
This brand backs up its rebounders with a limited lifetime warranty which includes 5 years on the mat, 2 years for the springs', and leg springs', and a lifetime warranty on the frame.
What we don't like…
Lubrication on the springs' is required to provide a bounce-free of squeaky noise.
Springs need to be replaced from time to time because they tend to break upon using the unit.
Want to know more about the Needak rebounders? See our FULL REVIEW HERE…
Al Carter Classic Double Fold ReboundAir Rebounder
---
This brand is very well recognized in the rebounder industry. In fact, Al Carter, the founder of ReboundAir, is the pioneer of rebounding.
I found that seniors have much to gain from this rebounder. The material they use are all high end and handcrafted. The rebounder is very easy to set up and the balance bar is not included but you can buy it separately from the manufacturer website.
ReboundAir delivers the right amount of bounce per minute to boost your energy in the least amount of time. It is also very effective for blood circulation and activates the lymphatic system.
All Carter Rebounders' designs are focused on delivering a good healthy bounce. It is not designed to jump high or to perform the advanced aerobic workout.
It features a 40" metal frame, Permatron mat, supports a maximum load of 300 pounds and people can choose from two different colors, red and black.
When comparing this unit with other cheaper rebounders this model has much more to give and a better feel. I am not much of a fan of the quarter fold because of the plastic frame and the fact that it doesn't come with the springs' cover.
Some people find the bounce style a little stiffer than Cellerciser and the Needak soft bounce but If you use it for what it was designed for, it gives you all the benefits you are looking for. You also won't have the problems with inversion that the longer coiled springs' often give.
What We like and Didn't Like
What we like….
Durable Metal Frame that will last you many years
A quality mat that doesn't stretch or rip with use
Rebounding workout DVD
30-day money-back guarantee
Competitive Price
Limited Unlimited Warranty
What we don't like….
Bounce style a little stiff for people with knees or back problems.
Want to know more about ReboundAir rebounders, check out our FULL REVIEW HERE..
---
How Can You Use a Rebounder Equipment?
---
You can use it for healthy bounce, aerobic bounce, and strengthening your body. The rebounders grant a variety of health benefits for seniors. Some of the benefits can include reducing pain, blood circulation, weight loss, decreasing cellulite, reducing stress, and lymphatic drainage.
In addition, they can also be used for therapy in different medical conditions. For example, improving coordination and balance. It is often used as a physical activity for the elderly since the up and down motion stimulates all the cells and muscles of the body.
Older adults looking for a safe and fun exercise that meets their fitness level can look into getting a quality rebounder for its multiple benefits. But be aware, NOT all rebounders provide the same stability and quality.
How Seniors Can Benefit From Rebounding
---
Considering that falls contribute to more than 800,000 hospitalizations and 27,000 deaths each year, rebounding exercise has exponential benefits for seniors.
It can strengthen the legs and back muscle and when done constantly improve posture, coordination and balance.
Rebounding is beginner-friendly and it is a low impact exercise. The way you do it is bounce lightly up and down. You can also walk and jog in place to lower the blood pressure and maximize all the benefits.
Every time the body experiences such motion, the whole body is oxygenated as a result, better blood circulation, and a body full of energy.
Rebounding give you the opportunity to do a fun exercise that you can keep doing for longer.
#1 Recommendation
---
Not all rebounders are the same and not all provide the stability a senior should have. So quality materials matter when we talk about a rebounder for older adults.
Cellerciser is our #1 recommendation for seniors because of its overall quality. The steel frame, permatron mat, and the included balance provide a well secure bounce. On top of that, the springs' auto-adjust to the weight, height, and movement to provide a more comfortable bounce.
>>>>Check the Latest Price Here…
I like the Needak Soft bounce for Seniors under 130 pounds or people with back or knee problems. It absorbs 85% of the ballistic impact so you can enjoy your workout while strengthening your muscles at the same time. I will recommend getting the balance bar and the springs' cover to ensure a complete secure bounce.
Final Thoughts
An exercise mini trampoline unit is outstanding exercise equipment for the elderly, whether you're just looking to get back into a health routine or want to improve your overall strength and balance. Rebounding on a mini-trampoline can absorb up to 85% of the ballistic impact so you can safely bounce without hurting your joints.
We have shown the best 5 rebounders for seniors. Getting any of these exercise equipment will give you1 many years of benefits.
Now it is your turn, have you used a rebounder before? If so, which one have you used? how has your experience been? Have you used any other exercise equipment? Tell us in the comment area below.
If you have any questions about rebounding please let us know,  we are here to motivate and help you achieve your workout goal so you can live longer and healthier.
To your workout success,
Ria
Recommended Articles: